Welcome, Tomoi and Nana
FIUTS is very excited to have two new friendly faces at the front desk, who will be answering phone calls, working on events and activities, and greeting walk-in visitors. Tomoi and Nana from Bellevue College are our new interns, so stop by the office and say hi!
Hometown: Tokyo, Japan
Major: International business and Global Japanese Studies
Year: Junior
I'm international student at Bellevue College. My internship term is in this summer quarter. Basically, I'm in front desk and support FIUTS events as a facilitator!
I have passion for playing sports especially soccer, baseball, and valleyball. (Invite me anytime!) I'm so grateful for FIUTS to give me chances to work for fascinating work place and to meet awesome friends from all over the world!

When you come to office, don't hesitate to ask me any questions. I look forward to meeting you in FIUTS office or some events!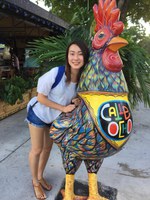 Hometown: Tokyo, Japan
Major: Languages and Culture Studies
Year in school: Senior
Hi, I'm Nana from Japan. I've just started the internship at FIUTS. I'm a university student in Japan and had been studying in San Diego as an exchange student for 1 year. I hope I can make good use of my studying abroad experience during this internship at FIUTS.
I really like to travel and to know different cultures by making friends from all over the world. I'm looking forward to exploring Seattle. So, I'm grateful for having this opportunity at FIUTS and I am excited to work as a part of FIUTS.
----
Interested in an office internship with FIUTS? Click here